_______________________________________________
Personal and Professional Development
Using a combination of highly effective methods, we assist you to rapidly move towards desired results, accelerating your personal and professional evolution. Past clients have attained outstanding results with diverse goals, including the following popular topics:
Intensives provide an opportunity to work deeply with your issues and intentions one-on one with Karin. Whether you live in the Santa Cruz area, or anywhere else in the world, half or full day sessions provide the opportunity to create a fresh start in live. Intensives are customized to your needs, and draw on an abundance of modalites. From Karin's innovative brand InnerEvolution™ which includes and transcends hypnosis, life-coaching and NLP, to dynamic, creative elements, you will find yourself in a highly transformative environment condusive to creating lasting change. Intensives can include outside segments in pristine central coast settings.
Packages with follow up coaching in person or by phone are also available.
The following are sample intensives. E-mail Karin to see whether your goals lend themselves to a potential intensive.

Manifesting Vision

Do you have a dream, goals or life vision you are wanting to create? Given how busy our lives are, the Manifesting Vision Intensive provides a powerful opportunity to go deep with your intentions. Karin will use her many tools, such as "three dimensional hypnosis," to have you fully experience your vision as manifest. We will create powerful internal shifts and create a clear avenue and plan for you to live the life of your dreams.
E-mail Karin to learn more.

Life Transitions

Whether you are changing careers, adjusting after loss of a loved one, or going through menopause, the Life Transition Intensive provides retreat and perspective for you to reorient to a new reality. Drawing on 23 years of experience of supporting clients through transitions, and the many techniques she has aquired in that time, Karin provides a compassionate sanctuary for you to redefine yourself.
E-mail Karin to learn more.

From Stress to Success

E-mail Karin to learn more.

Vibrant Health

E-mail Karin to learn more.

Visioning for Couples

E-mail Karin to learn more.
Our deeply relaxing audio programs are an effortless means to initiate rapid change and create success in any area of your life. Your unconscious mind receives powerful suggestions for the desired results, while you luxuriate and rest. Customized tapes to perfectly suit your individual needs are also available. Please visit our store

| | | | |
| --- | --- | --- | --- |
| | | | |
| | | | |
| --- | --- | --- | --- |
| | | | |
Please visit our store

If you live outside of our area or are too busy to come to our offices, individualized audioprograms allow you to receive the benefits of hypnosis tailored to your unique case, in the comfort of your own home. A brief phone interview or e-mail-intake is followed by a personalized audio CD or cassette.
Please visit our store

* Remember to honor our Service Agreement: you must Register to gain licensed access to these articles and other resources. The license is free of charge. For more information, or to set up sessions, register online, call (831) 724-5400 or e-mail karin@innerevolution.com.
Everyday Soul Care

For the Busy Professional

NEW on-line class!
~ How to care for your essence and personal evolution
while engaged in your busy life ~
Karin's innovative, interactive and self-paced web based coaching course is offered through the Human Fulfillment Institute. The class includes guided meditations and support e-mails. Based on the principles and practices of Interactive Awareness™
the Institute's programs are designed to offer the greatest, most lasting benefits available in the field of human development, performance and fulfillment.
Click image below for a free module of Karin's course: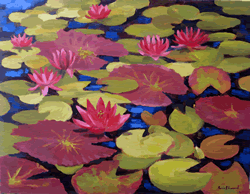 Create a Life You Love

In this multi-disciplinary workshop we enjoy guided meditations, art process and deep inquiry for inner alignment and outer manifestation. Embrace the life you wish to lead, inspired by your soul's desires, and let go of outdated patterns. Connect deeply with your inner self, and discover powerful tools to be in charge of your destiny - in the moment as well as for the years to come.
This workshop can be delivered by itself, or as an adjunct to retreats and conferences. Please email Karin if you would like her dynamic presentation to be part of your event or group.
Corporate Seminars:
We offer a variety of dynamic in-house courses in collaboration with Daniel Robin & Associates. These programs are customized to suit the needs your company:
Leadership Development & Team Communication Skills
Effective Negotiation, Confrontation and Conflict Resolution
Corporate Coach Training
This customized program allows you integrate coaching "best practices" into the culture of your company. Further details
Karin Leonard & Associates: (831) 724-5400

Toll-free (USA): (877) 85-RELAX
(1-877-857-3529)
E-mail karin@innerevolution.com