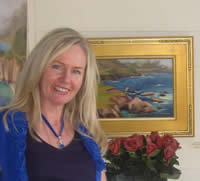 Karin H. Leonard is an award winning impressionist painter and the founder of PaintTheParks.com, an organization involving artists worldwide donating to parks. Karin has been exhibiting and selling her work since 1980.
Ms. Leonards work has been featured at select galleries, in numerous juried and one woman shows, in calendars and magazines, as well as on a wine label.
Born and raised in Germany, Karin was trained as an artist from early on. Following her natural inclination, she studied Fine Arts in Germany, as well as in Colorado and California. Karin has studied with noted landscape painters such as Brian Blood and Laurie Kersey of Carmel, and David Gallup of Southern California, as well as with renowned floral painter Hedi Moran of the Scottsdale Artist School. Karin is an active member of the Santa Cruz Oil Painters, for whom she recently served as president, as well as of the Oil Painters of America (OPA).
Greatly inspired by the early California Impressionists, the artist aspires to reflect the radiance of color and light in the landscape. Karin's paintings are a celebration of nature. The artist intends to express the spirit and mystery of the wild through her artwork, and hopes to inspire conservation of our beautiful environment. Each image is an invitation for you to follow your imagination, feelings and memories.
Karin greatly enjoys painting En Plein Air (on location) and in her studio. Whenever she can, Karin follows 'the call of the wild,' and paints En Plein Air : "Painting on location is a spiritual experience. Being in the presence of the beauty and spirit of nature infuses the artwork, and allows me to capture a moment in time. Larger works are done in the studio, as big canvases turn into kites outside… plus the light changes so quickly!" In the studio, Karin composes paintings from plein air sketches, photos and the felt memory of nature.
From the sale of Park Paintings, Karin donates 10% to the Park's Association.